Just months after prohibition lifted in Fort Collins, Campus West Liquor Depot was one of the first liquor stores to open its doors within the city limits. In the 40+ years that have followed, we have enjoyed a fun, exciting journey as a landmark in the CSU campus and an integral part of the Fort Collins community.
Here's a historical look at some of the highlights of Campus West Liquor Depot and its surroundings. Discover some of the monumental times that have occurred at CSU and in Fort Collins over the years. And, in case you can't tell from our timeline…there's no flood, riot, fire, snowstorm or demonstration that have ever kept Campus West Liquor Depot from serving you. We guess you can say, we're here for you through it all-- the good times and the bad!
1969
August 1969
First legal drink sold in Fort Collins
At about 5:00 p.m. on August 8, 1969, the first legal alcoholic drink was served in Fort Collins since prohibition began in 1896. Rumor has it that the first drink was served at either Bake's Café or the Top Hat Restaurant. However, if you are a believer of old stories, the Town Pump may have actually been first.
Legends say that the Town Pump sandwich shop was secretly serving moonshine liquor downstairs during times of prohibition. To gain access you had to know about the secret trap door that is said to have been behind the location of the bar today.
1969
October 1969
Campus West Liquors opens
Campus West Liquors opens in October 1969, just months after the prohibition ban is lifted and Fort Collins becomes a "wet" community. Red Ferrell, a former Colorado State Patrol and member of the Colorado Liquor Control Board, is the store founder and owner.
1969
November 1969
Rolling Stones tour starts at CSU
After a three year touring break, the Rolling Stones first US tour began at CSU on November 7, 1969. The band played to sold-out arenas and moved across the country from west to east playing two shows a night. Other tour stops included The Forum in Los Angeles and New York City's Madison Square Garden.
1970
February 1970
Half-time protest at CSU-BYU basketball game
On February 5, 1970, students break up a half-time performance at the CSU-BYU basketball game in protest of alleged racist practices by the Mormon Church.
Multiple fights start within the gym, a CSU police officer is struck with an angle iron and knocked unconscious, and a Molotov cocktail burns on the floor. In the end, police arrest seven individuals.
1970
May 1970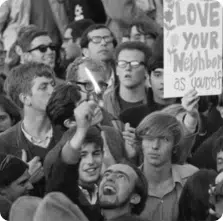 Rallies, marches and demonstrations on campus
President Nixon's decision to invade Cambodia and the killing of four students by National Guardsmen at Kent State University results in several rallies, marches and demonstrations on the CSU campus. These relatively peaceful demonstrations begin on May 5, 1970.
1970
May 1970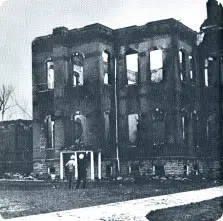 Tragic fire destroys "Old Main"
Just three days after the culmination of peaceable demonstrations, CSU experiences one of the most tragic events in its history.
At 10:55 p.m. on May 8, 1970, "Old Main," the 100-year-old main college building on the CSU campus, is set ablaze and burned to destruction. Remnants of a Molotov cocktail are found at the scene. There is much investigation and hundreds of leads, but the individual responsible for the fire is never identified.
1972
May 1972
Large anti-war protest
Anti-war protestors occupy the ROTC building. 15 individuals are arrested as a result of this large anti-war display.
1975
July 1975
Chicago and the Beach Boys play at Hughes Stadium
On July 6, 1975, the bands Chicago and the Beach Boys appear in concert at CSU's Hughes Stadium.
Approximately 37,000 people attend the concert, which goes smoothly aside from traffic back ups that are reported to have extended from the Harmony exit to the Windsor exit on I-25.
1975
July 1975
The Rolling Stones play at Hughes Stadium
Just two weeks after Chicago and the Beach Boys perform, CSU prepares for another major rock concert at Hughes Stadium.
The Rolling Stones concert results in trouble with concert-goers camping all around the stadium, destroying property and storming the venue for seats way in advance of the show. This becomes the last concert engagement at Hughes Stadium.
1975
Mid-Late 1970's
Campus West Liquors is sold
The first ownership transfer of Campus West Liquors happened in the mid to late 1970's when Red Ferrell sold the store to Bob Ditzfeld.
1977
1977
Explosion in downtown Fort Collins
An explosion in a shop in the Robertson building on East Oak Street shook downtown Fort Collins early in the morning on April 26.
Above is an image of Bowen's Book Store and So-Fro Fabric Store on the 100 block of S. College after the downtown explosion.
1980
July 1980
Campus West Liquors is sold again
Bob Ditzfeld sells Campus West Liquors to John Musa on July 1, 1980. John continues to own this family run business until this day.
1980
1980's
College Days, a nationally famous event for more than seven decades, is marked by loud music, heavy drinking and huge parties.

College Days started in May of 1910 when a group of 240 students crammed into train cars and rode to Bellvue in the hills west of Fort Collins.
This group of students from the agricultural college spent the day having a picnic. Charles Lory, college president, endorsed the event as a great way to promote school spirit. Over the seven decades that followed, the annual event shifted from a quiet gathering to a wild party.
1981
September 1981
Andy Warhol visits CSU
Legendary pop artist, Andy Warhol, collaborates with the CSU Art Department to create three soup cans for the Warhol at Colorado State University Exhibit. He visits CSU on September 1, 1981, for the shows opening and signs the soup cans.
1986
April 1986
College Days party of 3,000 results in a 12-foot bonfire
College Days reaches new levels of rowdiness when a party at the Baystone Condominium complex draws a crowd of 3,000 who start a 12- foot-high bonfire in the middle of Baystone Drive.
Police attempt to break up the party, but instead set up roadblocks and let the party diffuse after they are hit with beer bottles and other objects. The campus also experiences lots of drinking, intoxicated individuals, littering and fights.
1994
1994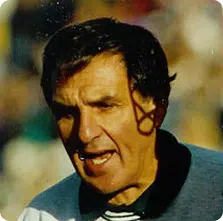 Sonny Lubick is named the National Coach of the Year by Sports Illustrated.
Sonny Lubick, former head football coach at CSU, was the 15th head coach in school history.
Lubick won over 100 games at CSU, won or shared six WAC or MWC titles, and guided the program to nine bowl games.
1997
July 1997
Fort Collins flood doesn't stop shoppers in canoes
After days of heavy, torrential rains, Fort Collins and Colorado State University are shocked by a flash flood that rips through the city on July 28, 1997, causing extensive flooding citywide. Five people drowned and the City estimated damages in excess of $200 million.
Despite the devastation, the flood is no match for die-hard Campus West Liquor Depot employees and shoppers who visited the store via canoes, tubes and other inflatables!
1999
January 1999
Campus West Liquor Depot completes a huge renovation
Campus West Liquor Depot gets a complete "face lift" in 1999 to further enhance its remarkable ambiance and in store environment!
The remodel includes the addition of a second story. Even through construction, Campus West Liquor Depot stays open to serve the community.
2003
March 2003
Huge blizzard collapses roofs and buries the city
Over March 18 and 19, 2003, Fort Collins was buried by a snowstorm that left 28-31 inches of snow across the City.
Fort Collins was nearly shut down for days and many roofs of local establishments collapsed under the weight of the heavy snow.
Mother Nature was still no match for the Campus West Liquor Depot crew who opened shop and met the desires of patrons who came bundled up via snowmobiles, skis, sleds and more!
2005
2005
Fort Collins named one of 10 "New American Dream Towns"
Outside Magazine names Fort Collins one of its 10 "New American Dream Towns" based on its backyard wilderness, local "green" businesses, CSU as a large employer and promoter of an eco-conscious tone, and its young happening Old Town district.
2009
October 2009
Balloon boy hoax attracts worldwide attention
On October 15, 2009, Fort Collins residents and people worldwide watched intently as a homemade balloon, colored and shaped to resemble a flying saucer-type UFO, floated along the skyline supposedly carrying a six-year-old boy named Falcon.
Richard and Mayumi Heene filled the balloon with helium, let it fly away and claimed their son was inside of it. Before discovering it was a hoax, media reported that the balloon carrying "balloon boy" was traveling at altitudes as high as 7,000 feet.
Today
Today
Campus West is still here serving up fun!